Produktion av Micall Parknsun.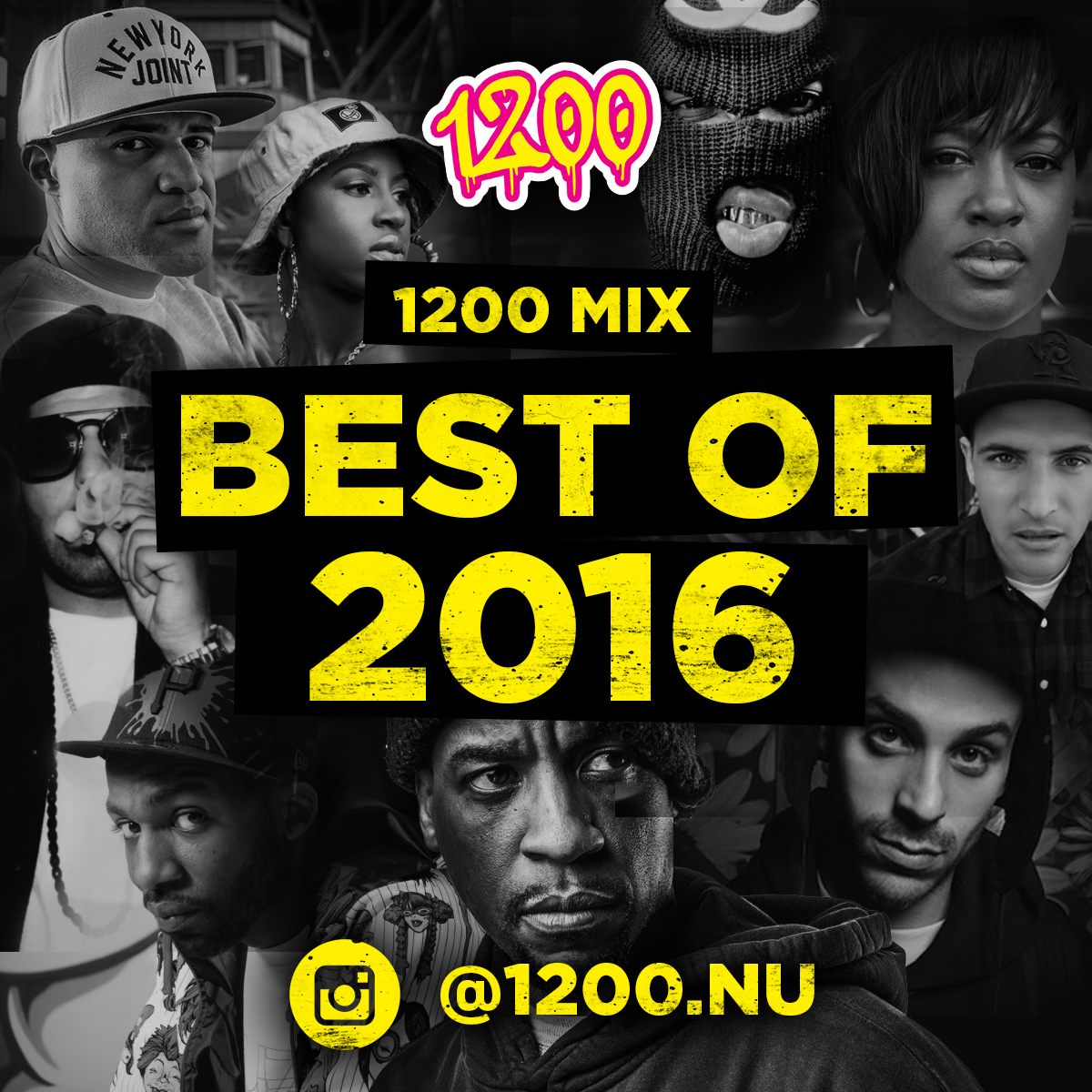 Podcast: Play in new window | Download (0.0KB) | Embed
Another year, another "Best of". Thanks to all you supporting! Wish you all a great 2017 and hope you continue hitting us up here and on Instagram @1200.nu. Next year will be our 10th year yo! Make sure to spread the word! All the best to you and yours! Peace!
[01] DJ Menace – As Far As Rap Goes feat. Royce Da 5'9″ & DJ Eclipse
[02] CookBook & Evidence – TBH feat. DJ Babu
[03] Eloh Kush & Dus – B-Boy Bonanza feat. John Robinson, El Da Sensei, AG & StaHHr
[04] Joker Starr, Micall Parknsun, Si Phili – No Comparisons (Leaf Dog Remix)
[05] Masta Ace – 3000 Avenue X feat. Your Old Droog
[06] Torae – Crown feat. 3D Na'tee
[07] Fliptrix – The Chronic
[08] Aesop Rock & Homeboy Sandman – Oatmeal Cookies
[09] Lyric Jones & Rah Digga – Ski Mask Way feat. DJ Eclipse
[10] Havoc & The Alchemist – Just Being Me
[11] Pearl Gates – Symphonic
[12] Blaq Poet – Eternal Flames feat. Tragedy Khadafi
[13] Broken Home – Home Run Derby
[14] Your Old Droog – Just Rhymin' feat. Styles P & Joey Bada$$
[15] Reef the Lost Cauze & Bear-One – You Know Me Well
[16] PhybaOptiks – Full English feat. SmooVth & Hus Kingpin
[17] Sonnyjim – Hardwork
[18] DJ Joe Bodega – Mentally Decapitated feat. U.G., Sean Price & Sadat X
[19] WestSide Gunn – Pissy Work feat. Benny
[20] D.I.T.C. – Connect 3 feat. Diamond D, A.G. & O.C.
[21] Rapsody – Crown
[22] Sick Jacken – Generation Psycho
[23] Lewis Parker – Release the Stress
[24] P.So & 2 Hungry Bros – Open Palm Strike feat. Homeboy Sandman & K. Gaines
[25] Beneficence – EZ as 1-2
[26] Apollo Brown & Skyzoo – Basquiat On The Draw feat. WestSide Gunn & Conway
[27] Homeboy Sandman – Talking (Bleep)
Total running time: 01h 01m 26s
—- —- —- —-