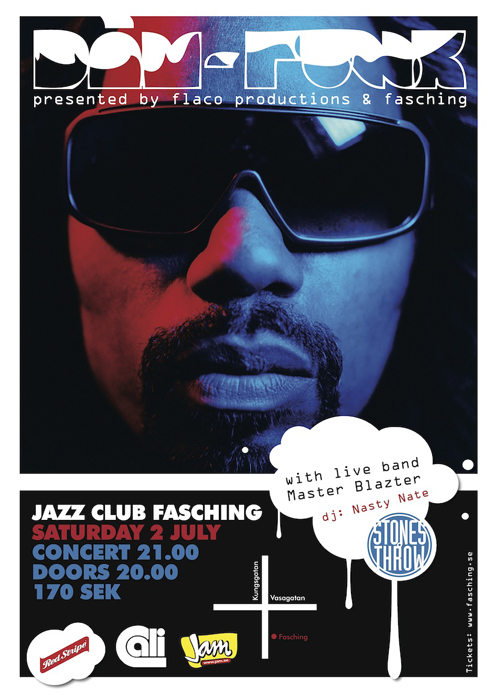 Ännu en grym bokning av Flaco Productions! Denna gång är det Dãm-Funk som står på scen tillsammans med live band Master Blazter. Vi ser fram emot en grym Funk, Spaceliknande Boogie! En mycket efterlängtad bokning! Boka biljetter här och vi ses på Fashing den 2:a Juli!!!!
"Known as Los Angeles' "Ambassador of Boogie Funk," Dãm-Funk represents the citizens of the Funkmosphere. Headquartered in the Leimert Park section of L.A., Dãm (pronounced: 'Dame' as in Damon) spent the last few years cultivating a musical renaissance rooted in the early-'80s styles known as Boogie, Modern Soul and Electro-Funk.
As a DJ/selector, Dãm attracts the most discerning Boogie Funk afficionados within driving distance of his storied Monday-night Funkmosphere parties. But it's not just collectors at the bar toasting to the melodic sounds. Anyone who grooves to the likes of Slave, Aurra, early Prince, Prelude Records and the like, will get a dose of those groups' unknown contemporaries – more obscure but equally Funk-worthy.
The next phase of the Ambassador's mission is his debut album Toeachizown: continuing the classic West Coast tradition into today's scene with Dãm's own original "Modern-Funk" compositions. By plugging in his arsenal of vintage synths and drum machines, Dãm channels the galactic harmonies of his inspiration into his own brand of new boogie. Stones Throw Records' like-minded honcho Peanut Butter Wolf brought Dãm on to the team to glide into the future with his unique, synth and bass-driven vibe. It's a promising new chapter for Southern Cali space funk."
– Text av stonesthrow.com