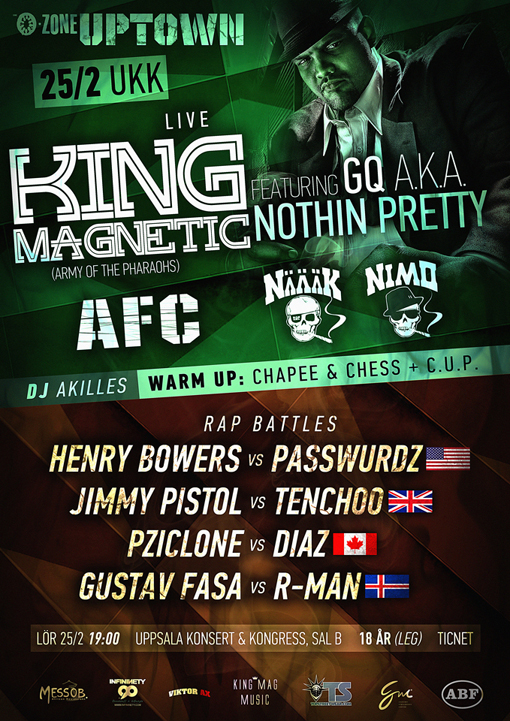 "King Magnetic besöker Uppsala Konsert & Kongress den 25:e februari och med sig har han GQ (A.K.A. Nothin Pretty) och kommer även att göra ett inhopp när legenderna Jedi Mind Tricks intar scenen på Strand (Stockholm) den 26:e februari!
King Magnetic har jobbat hårt de senaste åren med flera stora collabs och mixtapes, medverkat på flera album med Jedi Mind Tricks och har turnérat med Reef the Lost Cauze (AOTP), Edo G, Snowgoons m.fl. Det hårda arbetet fortsätter under 2012 med turnéer med Cappadonna (Wu-Tang), Block McCloud (AOTP), GZA (Wu-Tang) samt att nya albumet "Everything's A Gamble Vol. 3" kommer ut inom kort. King Magnetic har även jobbat ihop med artister som Immortal Technique, KRS-One, Joell Ortiz, Slug från Atmosphere, Snowgoons, Reef the Lost Cauze, Skyzoo och flera av medlemmarna från Boot Camp Clik."
25 Februari: The O-Zone Battles – Uptown Edition presenterar: (Uppsala Konsert & Kongress)
KING MAGNETIC + GQ (US)
Support: AFC, NÄÄÄK & NIMO, CHAPEE & CHESS + C.U.P.
Battles:
HENRY BOWERS vs. PASSWURDZ
JIMMY PISTOL vs. TENCHOO
PZICLONE vs. DIAZ
GUSTAV FASA vs. R-MAN
Biljetter köper ni online via Ticnets hemsida. Pris är 200kr + service avgift.