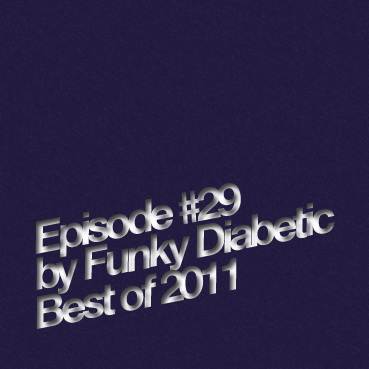 The last episode of the year is about some of the wickedest tunes of 2011!
In no particular order we've taken records realeased digitally or on vinyl. Some of these tracks come from some the best albums of the year, others are simply wicked single releases!
Thanks to all of you following and supporting! We look forward to a new great hip-hop year in 2012! Special thanks to those who made their voice heard on their favorites of the year! Peace!
Podcast: Play in new window | Download (0.0KB) | Embed
[01] J Rawls feat. Diamond D, Oh No & Kev Brown – 'Best Producer On The Mic'
[02] IMAKEMADBEATS feat. Black Milk, Butta Verses & TzariZM – 'Heard Of Me'
[03] STS – 'STSisGOLD'
[04] Still Pee & Ru – 'The Outro'
[05] Kendrick Lamar feat. Busta Rhymes – 'Rigamortis' (remix)
[06] Homeboy Sandman – 'I Knew'
[07] Nutso feat. Royal Flush and Mic Geronimo – 'This is My Hood' (Amazing Maze Remix)
[08] Outerspace feat. Blacastan & Esoteric – 'Bodega Gospel'
[09] DJ Deadeye feat. ST Da Squad – 'Blood Brothaz Pt. 2'
[10] Circle feat. Ill Bill & Math Hoffa – '4 Profits'
[11] DJ JS-1 feat. Lil' Fame, Joell Ortiz & Freddie Foxxx – 'Reppin' NY'
[12] Evidence – 'You'
[13] Reks – '25th Hour'
[14] Freeway & Free Money – 'Running The Streets'
[15] Large Professor – 'Key to the City'
[16] Mister Jason feat. Akrobatik, Bad Newz, CheckMark, D Tension, Esoteric, Forcefeeld, Edo. G, Tygastyle, I.D., Jaysaun, K-NO Supreme, Riacha La Pasta, Moe Pope, Nabo Rawk, Oak Lonetree, DJ Paul Foley, Q-Unique, Reks, Slaine, Termanology, Dizzy D (Ugly Duckling), Thirstin Howell, Will C., YZ & J-Zone – 'Mister Jason has a Posse'
[17] Jay Rock feat. Kendrick Lamar – 'Hood Gone Love It'
[18] Saigon – 'Enemies'
[19] Roc Marciano – 'Scarface N***a'
[20] Telemachus – 'Scarecrows'
[21] The Black Opera – 'Sleep Tight'
[22] D.M.P. – 'We Ain't Playin'
[23] Apathy feat. Vinnie Paz – 'Honkey Kong'
[24] Torae – 'That Raw'
[25] Paradime – 'Beefeaterz'
[26] Pete Rock & Smif-N-Wessun feat. Sean P & Styles P – 'That's Hard'
[27] Random Axe feat. Roc Marciano – 'Chewbacca'
[28] Large Professor & Neek The Exotic – 'Head Spin'
[29] Q-Unique – 'Green Grass'
[30] J-Ro – 'Start The Mania'
[31] Hassaan Mackey & Apollo Brown – 'Volume'
[32] El Gant feat. El Da Sensei, Pace Won & Strata-Gee – 'D.R.S.'
[33] V-Zilla feat. Vinnie Paz & Blacastan – 'Flatline'
[34] Maffew Ragazino feat. Wais P – 'TDK'
[35] Rasheed Chappell feat. DJ Scratch – '1,2,3'
[36] Saigon – 'Enemies'
[37] Pharoahe Monch feat. Styles P & Phonte – 'Black Hand Side'
[38] PaceWon & Mr.Green – 'Can You Hear Me' (A Tribute to the People of Tunisia)
Other joints that qualify for some of the best of 2011: Vakill 'Wild Wild', Malcolm & Martin 'Against the Wall', Riff Raff McGriff 'Tell Em', M.O.P. & Snowgoons 'Get Yours', Jedi Mind Tricks 'Target Practice', MC Eiht 'Fine by Me', Statik Selektah 'Population Control', DOOMSTARKS 'Victory Laps', Freeway & Statik Selektah 'And It Don't Quit', Jaylib 'Louder' (Blast Your Radio Theme)
Total running time: 01h 29m 05s
—- —- —- —-
To subscribe, click on the "Click to subscribe to 1200MIX (audio)" icon on the right.
Get at us on: info@1200.nu