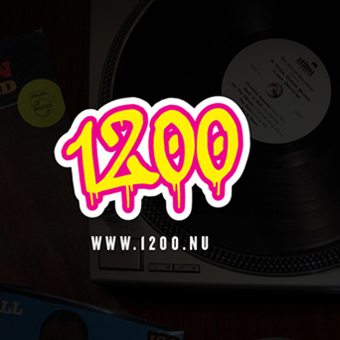 Yes! Tillbaka från semestern är det dags för årets första 1200MIX avsnitt! Big up till DJ Snuff!
Vi har gjort lite små ändringar i sidans design och denna är nya loggan! Tack till C.A. för designen!
Passar också på att bjuda in er till nästa barhäng fredag 15/3 @ Judit & Bertil!
Podcast: Play in new window | Download (0.0KB) | Embed
[01] Jabee – 'Noahs Ark'
[02] Jemini The Gifted One – 'Can't Stop Rockin' (Tribute) (Goldfinger's Mix Dirty)
[03] Beneficence feat. Grap Luva & Rob-O – 'Cold Train'
[04] Neek The Exotic feat. B-1 – 'Comin' In Piles'
[05] Clear Soul Forces – 'Get No Better'
[06] Rasco feat. Edo.G & Reks – 'Gunz Still Hot' (Dj Premier Remix)
[07] Pacewon & Mr Green  – 'My God '
[08] Jee Van Cleef feat. Insight (Soul Brother Blend) – 'Stick to Ground '
[09] Tha Alkaholiks – 'Daaam' (Buckwild Remix)
[10] Da Youngsta's – 'Mad Props'
[11] Blu & Exile feat. Black Spade – 'Maybe One Day'
[12] Nas – 'Back When'
[13] Jemini The Gifted One – 'Story Of My Life'
[14] Apollo Brown & Guilty Simpson – 'Neverending Story'
[15] Jamal – 'Fades Em All'
[16] Joey Badass – 'Waves'
[17] Apollo Brown & OC – 'Options'
[18] Vinnie Paz – 'Jake Lamotta'
[19] 9th Wonder & Buckshot – 'The Big Bang'
[20] Showbiz & AG feat. DJ Premier – 'Business as Usual'
[21] Kool G. Rap – 'For Da Brothaz'
[22] Lord Finesse feat. Big L – 'Yes You May' (Funk Flow Mix)
[23] Ab-Soul – 'The Book Of Soul'
[24] Q. TheRealst – 'Somethin' Soulful'
Total running time: 1h 19m 06s
—- —- —- —-
To subscribe, click on the "Click to subscribe to 1200MIX (audio)" icon on the right.
Get at us on: info@1200.nu