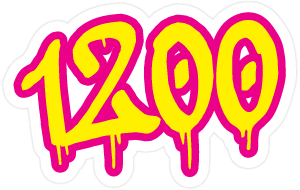 New podcast episode by 1200 with Funky Diabetic on the turntables! Make sure you hit the play button, the subscribe button and the share button!
We have a few events coming up! Some doesn't require you to travel to Stockholm, Sweden! Check them out on our new calendar on the right and show support! Peace!
Podcast: Play in new window | Download (0.0KB) | Embed
[01] Rikard "Skizz" Bizzi – "Träd"
[02] Homeboy Sandman – "Mars Attacks"
[03] Dave Run – "Shades of Love"
[04] Rasheed Chappell – "Franchise"
[05] Diamond D feat. Fat Joe, Chi Ali & Freddie Foxxx – "Its Nothin"
[06] Rozewood – "SerPent In ThE RaINboW"
[07] Diamond D feat. Rapsody, Boog Brown & Stacy Epps – "Pump Ya Brakes"
[08] N.O.R.E. feat. Nature, Capone, & Cormega – "Rap Rushmore"
[09 Skyzoo & Torae – "Memorabilia"
[10] Rapsody – "Feel It"
[11] Rikard "Skizz" Bizzi – "Dom Tio Budorden"
[12] Large Professor feat. G-Wiz – "In the Scrolls"
[13] Dangafield – "Live from the Ghetto"
[14] Slaine – "Our Moment"
[15] Diamond D feat. Masta Ace – "Ace of Diamonds"
[16] Homeboy Sandman – "Problems"
Total running time: 45m 25s
—- —- —- —-
To subscribe, check the link in sidebar on the right.
Get at us on: info[at]1200.nu