1200 @ Judit & Bertil, lördagen 9:e september 2017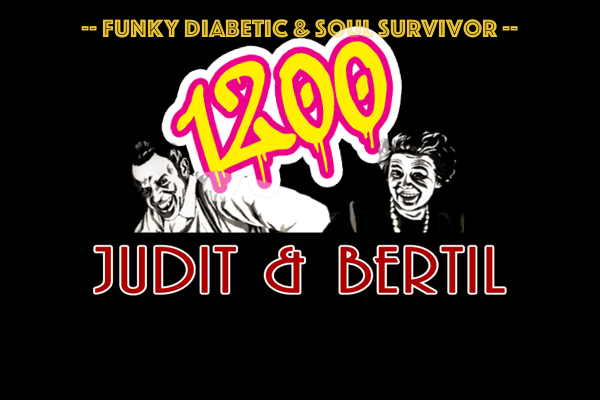 Vinylnålen sprakar, skivspelarna spinner och högtalarna pumpar fet hip-hop kl.21:00-01:00 lördag 9/9 på bästa Judit & Bertil!
Född 1975 och lyssnat på hip-hop sedan 1989, ungefär då De La Soul släppte "3 Feet High and Rising". Under vissa perioder har jag upplevt hip-hop som väldigt tråkig! Värsta svackan var under "Gangsta"-perioden då jag tyckte att ingenting som släpptes var bra förutom Common Sense och The Roots. Denna svacka gjorde att jag i sin tur kände behovet av att sprida musik. Kompisar fick blandband inspelade och skivsamlingen blev större och större! Senare införskaffades ett par skivspelare och nu försöker jag driva en sida med 100% fokus på musiken. Idag finns det så himla mycket musik ute! Det sprids överallt via internet. Hemmastudios har gjort att musikskapandet har blivit väldigt lätt och därför ibland alltför plastigt. Brist på kunskap och erfarenhet har gjort att kvalité på musikskapandet är så mycket sämre. Inga dyra studios behövs för att spela in demos. Att mixa en skiva i en riktigt studio borde krävas av alla som släpper musik nuförtiden! Hemmastudios och musik har pga bristen och erfarenheten på dessa processer ibland blivit alltför smaklös. Hip-Hopen har utvecklats och idag känner jag att man måste vara väldigt specifik när man berättar vad för typ av hip-hop jag lyssnar på. Förr i tiden var genren så pass ny att det räckte att säga "hip-hop". Kommersialiseringen av kulturen och musiken har gjort att vissa artister får väldigt mycket uppmärksamhet av media. Någon som inte är insatt skulle säkert kunna tro att Jay-Z, Kanye West och kanske Eminem står för 98% av hip-hop musiken. 1200.nu vill därför bjuda på musik som ni kanske har missat. Artister som är minst lika bra som ovannämnda men som av olika skäl inte har fått uppmärksamheten i media. Det finns mycket bra hip-hop där ute! Det gäller att söka och filtrera! Välkomna till 1200!