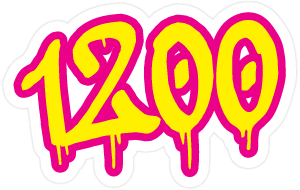 Podcast: Play in new window | Download (0.0KB) | Embed
As a new session of a 1200-night at Judit & Bertil comes closer, we have recorded a new 1200MIX episode! As usual you'll find all your grandmothers favorite joints! Make sure she turns up the volume for this one! See you lot on the 30th!
[01] Dilated Peoples – "Good As Gone" (instrumental)
[02] Skyzoo & Torae – "Talk of the Town"
[03] Blacastan & Stu Bangas – "Close Your Eyes"
[04] Blahz Martell feat. Camille Carolina – "BK Blahz"
[05] Statik Selektah feat. Action Bronson, Royce Da 5'9″ & Black Thought – "The Imperial"
[06] Boaz – "Like This"
[07] Skyzoo & Torae feat. Sean Price & Guilty Simpson – "All In Together"
[08] Cormega feat. AZ, Redman & Styles P – "MARS" (Dream Team)
[09] Buckshot & P-Money feat. Raz Fresco – "Just Begun"
[10] J. Rawls feat. Wordsworth – "One Time"
[11] John Robinson & PVD – "Respect King"
[12] Dilated Peoples feat. Aloe Blacc – "Show Me The Way"
[13] Planet Asia & Tzarizm – "On Time"
[14] KEMIKEL ALI feat. Peedi Crakk – "I Spazz"
[15] Nutso feat. Shabaam Sahdeeq & Hus Kingpin – "Murderous"
Total running time: 48m 33s
—- —- —- —-
http://www.1200.nu/1200mix
To subscribe, check the top of the right sidebar.
Get at us on: info[at]1200.nu